As it is well known, the COVID epidemic struck the entire world and was disastrous for all living things. Some people survived the pandemic, while others lost loved ones. We should give thanks to God that we escaped the COVID-19 pandemic. Following the outbreak, the government determined that the vast majority of children had lost both parents and lacked any kind of safety net. In order to help the children who lost their parents during the pandemic, the government has now engaged and launched the PM Care Children Yojana 2023 Scheme, which is developed primarily for these orphans. Mr. Narendra Modi. In this article we will learn about the PM Care Children Scheme, along with its benefits, objectives, eligibility, documents needed, and also how to avail this scheme.
PM Care Children's Yojana 2023
The PM Care Children Yojana 2023 is a bold effort established by the Indian government to give complete financial aid and support to children who have lost their parents or guardians as a result of the COVID-19 epidemic. The government promises to provide financial assistance and social security to children up to the age of 18 who have lost both parents to the epidemic. The program also includes children who have lost their only breadwinner or legal guardian as a result of COVID-19. Recognizing the critical need for both immediate and long-term assistance, the Government of India launched the PM Care Children Yojana 2023 as a critical step towards securing the future of these vulnerable children.
PM Care Children's Yojana Overview
| | |
| --- | --- |
| Scheme Name | PM Care Children Yojana |
| Introduced by | Central government of India |
| Beneficiaries | Children Who Lost Both Parents Because of CoviD-19 |
| Purpose | Financial support to Orphans |
| Official Website | https://pmcaresforchildren.in/ |
PM Care Children's Yojana Objectives and Importance
To adjust the lost routines of all the kids who had suffered the Pandemic and lost both of their parents. This scheme, known as PM Cares for Children, was introduced by Prime Minister Narendra Modi. It was primarily implemented to benefit all the Covid Orphans and enhance their quality of life. They will receive family protection, and many other benefits from this plan. This is a significant step for the future of all these children. We all know that there's many difficulties and emergencies that residents in various states must deal with, so the government has established a charity trust to aid them all, with the Ministry of Women functioning as the managing organisation and child welfare.
Under the PM Cares for Children Scheme, 220 kids had been accepted into Kendriya Vidyalayas (KVs). In addition to the approved class strength, the KVS entry procedures for 2022–2023 also contain measures for the admittance of children who lost one or both parents to the COVID 19 Pandemic. For category one admission, there is a 25% reserve for children from underrepresented groups, professions, and areas with weaker economies. At the entrance stage for scheduled castes, scheduled tribes, and other backward groups, places are also horizontally reserved for children with disabilities in accordance with constitutional guidelines (Non-Creamy Layer). Furthermore, there are two seats in each section for class one students who are single girls.
PM Care Children's Yojana Benefits and features
All of the beneficiaries of this scheme who desire to pursue further education will receive a wealth of perks. The Pm Care for Children Yojana will provide them with Rs. 4,000 per month. Children who need loans for anything—including their studies—can take full advantage of this Scheme. The childrens lost their parents between March 11, 2022, and February 28, 2022 will be the sole beneficiaries of this scheme. All other recipients will not be eligible for rewards. The honourable Prime Minister Narendra Modi announced the benefits of this yojana, and all inheritors would also receive the Ayushman Health card, which will also be advantageous.
With the help of this program, the beneficiaries will learn how to rely on themselves instead of others.
PM Care Children's Yojana Documents
Beneficiaries who aspire to take advantage of this opportunity must address the following documentation when applying for the scheme:
Aadhar Card
Residence certificate
Passport size photograph
Mobile number
Email id
Death certificate of parents
Covid-19 positive report etc
PM Care Children's Yojana Eligibility
Beneficiaries who lost their parents as a result of the pandemic from March 11, 2020, to February 28, 2022 Adopted parents, single adoptive parents, living relatives, and guardians are all eligible for the Yojana.
PM Care Children's Yojana Application Process
To register in this scheme you must follow the following steps.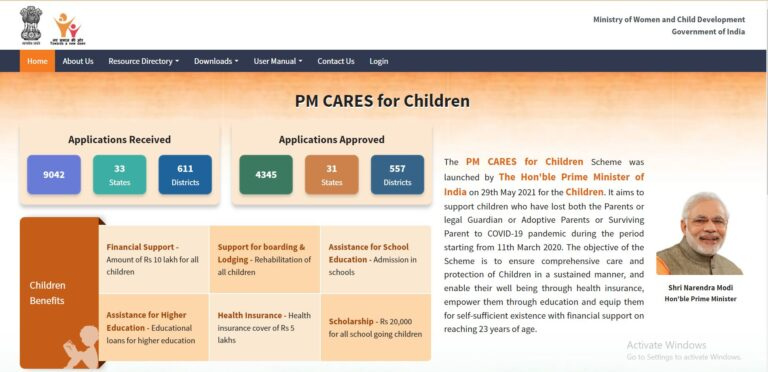 The option to "register here" is accessible there.
You'll be directed to another page where you may submit your details and upload all the important documents.
finally click on "submit."
You will officially register for the scheme, and you will receive a registration ID.
PM Care Children's Yojana Login Process
To login in the portal you must follow the following steps.
visit the Official Website of the scheme.
The option to "Login" is accessible there.
You'll be directed to another page where you have to click on "Child"
You'll be directed to another page where you may submit your details Child Id, password and captcha
Then Click on the "login button" and you will be logged in to the PM Care Children Yojana Portal.
PM Care Children's Yojana Important Points
The PM Care Yojana for Children scheme will give them 4,000 on monthly basis.
This scheme will provide benefits only for those children who have lost their both parents in 11th, march,2022 to 28th, February, 2022
PM cares for children's beneficiaries Yojana might enrol for the Ayushman Bharat scheme and receive five lakh rupees in medical insurance coverage.
The ministry of women and child welfare will be the manager of the charitable fund.
The platform will also send notifications for open complaints,integrated dashboard and a history of grievance resolution.