Paymanager Rajasthan Employee Login| Paymanager Rajasthan Pay Slip Download| paymanager2.raj.nic.in| PriyaPaymanager| Paymanager Rajasthan Bank Registration
Paymanager Rajasthan is a government portal started by the State Government of Rajasthan. It is a pay bill payment system which is meant for employees to provide various facilities. On this portal pay bill of the employees has been prepared. Rajasthan government employees can download their payslips every month through this portal and avail of many other services as well. In this article today we are going to elaborate in detail about how you can download the salary slip, the step-by-step guidelines to log in to the portal, step-by-step guidelines to recover your password and any other information.
Paymanager Rajasthan 2021
Paymanager Rajasthan 2021 is created for employees, treasury officers & banks, government departments & DDO. DDO Login is for those persons who have to prepare salary bills, DA, salary arrear bills, leave encashment retirement bills, FVC Bill, Surender bills, etc. Employee login is for the Government employees to check monthly payslips, income tax statements, etc. Bank Login is for the treasury officers & Banks to digitally sign e-payment files, payment PDFs. Department Login is for the department/ third party payment-related information or report.
Read more :- Rajasthan Jan Aadhar Card 2021
Key Points of Paymanager Rajasthanicle
Name of the Portal- Paymanager Rajasthan
Launched by- Government of Rajasthan
Department- Finance Department
Launched for- Employees, Banks, Government Departments & DDO
Official website- paymanager.raj.nic.in
Objective of Paymanager
Paymanager Rajasthan is an online pay bill preparation system that integrates to prepare the pay bills of the employees. The software provides various other facilities too. On this portal employees of the government, the sector can avail themselves of various services online like monthly payslip download, income tax statements,s, and many others. The main objective of the government behind launching this portal is to provide services to the employees at their doorstep. 
Also Read: Rajasthan Jan Suchna Portal 2021
Benefits of the Paymanager Portal
Employees need not to go to the office to get pay slip or monthly pay related details
Employees can download pay slip from any where
Information is available within seconds
Not only pay slip employees can check pending leave related info, income tax statement, etc.
Banks/treasury officer can digitally sign the e-payment files
It ease to prepare pay bill of the employees, DA bills, leave encashment bills at the time of retirement and more.
Procedure to Paymanager Rajasthan Pay Slip Download
To download pay slip, you need a laptop/ PC/ Smartphone with working internet connection
Open the Paymanager Rajasthan official website
Go to the "DDO/Employee Login" option
Enter Paymanager ID & Password on the screen in given space
Enter the captcha code as shown in the image
Select Employee option, choose login option given next to it & dashboard appears on the screen
Choose pay slip option and pay slip appears on the screen.
Now click on the download option
Procedure to Login Paymanager Rajasthan
Enter Paymanager ID & Password on the screen in given space
Enter the captcha code as shown in the image
Select one of the following option

DDO
Employee
Digital
Department
Sub DDO
HOD/Sub HOD

Choose login option given next to it & dashboard appears on the screen
Procedure to Recover Employee Login Password
A new web page will open on the screen where you need to enter the following details

Employee ID
Bank account no
Date of birth
Mobile no. (optional)

Choose verify contact option and enter the OTP in the given space
Hit submit detail option and reset your password by entering new one
Confirm the new password & submit it
Bank Registration Procedure
For bank registration, you need a laptop/ PC/ Smartphone with working internet connection
Open the Paymanager Rajasthan official website
Go to the Bank Registration option and application form appears
Enter all the details in the application as asked like

Name
Username
User type
Treasury/ bank code
Address
Email
Phone number
Office name
Password etc.

Choose verify contact option and OTP will sent on the mobile number you entered
Enter the OTP and choose verify option, fill the rest asked details in the form
Upload the necessary documents and submit it
HOD Registration Process
For HOD registration, you need a laptop/ PC/ Smartphone with working internet connection
Open the Paymanager Rajasthan official website
Go to the HOD Registration option and application form appears
Enter the details in the form open on the screen

Account details

Department
IFMS Username
IFMS Password

Personal details
Paymanager name
IFMS name
Paymanager email
IFMS email
Paymanager mobile number
IFMS mobile number

Choose generate OTP option and OTP will sent on the mobile number you entered
Enter the OTP and choose verify option, fill the rest asked details in the form
Upload the necessary documents and submit it
Procedure to Download Paymanger Mobile App
To download the application, you need to go to the play store in your mobile 
Go to the search bar and search "Paymanager" or click here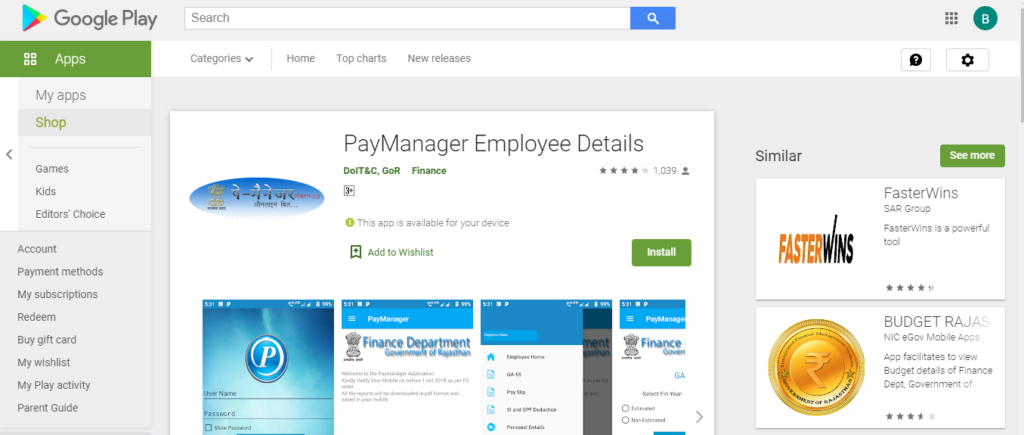 Choose install option and application will start download in your mobile 
Let it install in the mobile 
Procedure to Login in Paymanger Mobile App
Download the app by follow the above given instructions
Open the app and enter the Username & Password
Hit login option and employee dashboard appear on screen
Procedure to check pay slip via Paymanger Mobile App
Download the app by follow the above given instructions
Open the app and enter the Username & Password
Hit login option and employee dashboard appear on screen
Go to the menu and choose "pay slip" option
Select the month and information will appear on the screen
Helpline
Phone Number: 0141-5111010/ 0141-5111007
Email at paymanagerrj@gmail.com