Agniveer Navy Eligibility | How to Apply Online for Agniveer Navy 2023, Qualification, Age and Height | Indian Navy Agniveer Registration Form |india one of the most powerful nations in the world, is also modernising its military capabilities, including its air, naval, and ground forces. India has one of the strongest armies in the world and is constantly developing its technologies to ensure the security of the nation. The Indian government has put in place a Scheme that restricts participation in the military to young people in order to strengthen the Indian military. The Scheme is known as the Agniveer Navy Yojana. In this article we will learn about the importance, application procedure, documentation, and eligibility criteria of the Scheme.
PM Kusum Yojana
Agniveer Navy Yojana 2023
On June 14, 2022, the Indian government unveiled the Agneepath initiative. It serves as a roadmap for the expansion and integration of the nation. Young people and women from all communities should have equal opportunities. The Agneepath scheme is the only method for enrolling soldiers. The Indian Navy Agniveer Online Application Form will be accessible from July 15 to July 22, 2022. The board will subsequently carry out the hiring procedure in accordance with the specifications. The 2800 total opportunities, of which 560 are exclusively for women, will be allotted according to each state.According to the 1957 Navy Act, the agniveers will be registered for four years in the Indian Navy. Agniveers would be a distinct rank from all other present ranks in the Indian Navy.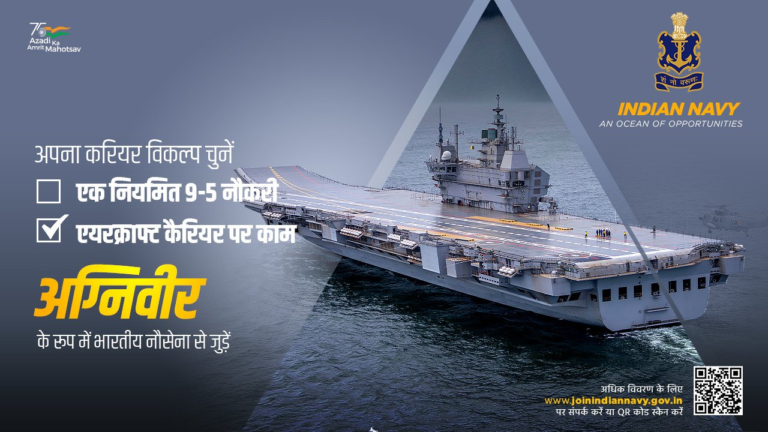 Agniveer Navy Yojana 2023 Overview
| | |
| --- | --- |
| Name of Yojana | Agneepath Scheme |
| Beneficiaries | Youngsters Citizens of india |
| Vacancies | 2800 |
| Start Date | 15 July 2022 |
| End Date | July 22, 2022 |
| Official website | joinindiannavy.gov.in |
Benefits and importance of Agniveer Navy Yojana 2023
Agniveers will get a one-time Seva Nidhi payout from the government that consists of their monthly payment plus a matching contribution from the government. 10 lakh or more. Life Insurance Coverage The Agniveer Navy will receive a non-contributory life insurance cover of Rs 48 lakhs throughout their service. The family will receive Rs. 44 lakh in addition to the Rs. 48 lakh insurance coverage in the event of a service-related death. to compensate for disabilities. Depending on their level of handicap (100 percent, 75 percent, or 50 percent), anniversaries are entitled for a one-time ex-gratia payment of Rs. 44, 25, or 15 lakh.
Objectives and Features of Agniveer Navy Yojana 2023
Every young person in the country will have the option to join the armed services according to the Agneepath scheme which will choose the most eligible applicants after four years. The most intelligent young people will be picked after four years. The Agneepath scheme's recruiters will be referred to as "Agniveers." After four years of service, those who are not chosen get a certificate resembling a high school graduation. Then, such Agniveers may continue their education with this or may be hired by a variety of private businesses. Additionally, during the engagement duration, money will be paid for risk and suffering, clothes, and travel costs.
Eligibility Criteria of Agniveer Navy Yojana
The applicant must be between 17.5 and 23 years old (01 Nov 1999 – 30 Apr 2005).
completed a 10+2 exam from a board of school education recognised by the education ministry. the government of India, with maths and physics as well as at least one of the following: chemistry, biology, or computer science.
Height: A male should be 157 cms and a female should be 152 cms
Visual Standard With or without glasses Optical illusions: Better Eye, Worse Eye 6/6 6/9
Qualifying in Physical Fitness Test (PFT) is mandatory for selection
Genders of any age who are not married may apply. If it is discovered that a recruit is already married or if they are married during their initial training, they may be expelled from the service.
Documents Required of Agniveer Navy Yojana
Some of the important documents required are
certificates for any courses taken,
10+ mark sheets, and
certificates for residency and NCC.
Application Procedure of Agniveer Navy Yojana
The step by step process of application are as under
Choose Indian Agniveer Volunteer Online Application 2022 if qualified.
Include the required documents with your application.
Pay the application fee online.
Complete submission.
Note: For a fee of Rs 60 + GST, the application can be filed through one of the country's Common Service Centres.