YSR Cheyutha Scheme 2023 Online Form | YSR Cheyutha Scheme Last Date | Jagananna Cheyutha Scheme in Telugu | Jagananna Cheyutha Scheme Eligibility | YSR Cheyutha Scheme Payment Status
YSR Cheyutha Scheme 2023 has been announced by the honorable chief minister of Andhra Pradesh state YSR Jagan Mohan Reddy. This scheme has been started for women belonging to SC, ST, BC, or minority communities. If you may have questions related to this scheme in your mind; then you should read this article to grab information. We have presented all the information related to the scheme released so far by the state government. All the scheme-related details like procedure to apply for the scheme, application status, beneficiary list, eligibility details, benefits, and many more are specified below.
YSR Cheyutha Scheme 2023
YSR Cheyutha scheme is one of the flagship schemes of the YSR Jagan Mohan Reddy's government under which the women belonging to SC, ST, BC, or minority community of the state will get benefited. Beneficiaries will get financial assistance of Rs. 75000/- in spam time of 4 years. An amount of Rs. 18750 will be given every year by the government to the beneficiaries. If you wish to grab more details, please read the further stated article.
Overview of Jagananna Cheyutha Scheme
Scheme name: YSR Cheyutha Scheme
Announced by: Chief Minister YSR Jagan Mohan Reddy
Launched for: Women
Launched in: Andhra Pradesh
Implementation from: 12th August 2020
Department: Women Development and Child Welfare Department
Benefits: Monetary Benefits
Official website: navasakam.ap.gov.in
Read more :- AP Meebhoomi
Previous Year Budget Allocation
The budget has been presented by Finance B Rajendranath Reddy. The state budget of Rs 2,24,789.18 crore has been presented for twenty-one welfare schemes. Out of which Rs. 6,300 crores has been allocated for the YSR Cheyutha scheme.
YSR Cheyutha Scheme Launched
This scheme has been launched by Chief Minister YSR Jagan Mohan Reddy during a video conference held on 12th August 2020. The conference was held from the chief minister's camp office that is situated in Tadepalli in Amaravati. More than 23 Lakh women of the state are benefited from the government under this scheme.
Scheme Implementation
The implementation of the YSR Cheyutha Scheme 2023 has been started in the state from Wednesday, 12 August 2020. To provide marketing opportunities and technical support to women and successful implementation of the scheme, the state government signed MoUs with three companies. MoU has been signed with Hindustan Unilever Limited (HUL), ITC, and Procter & Gamble (P&G) in the presence of Chief Minister YS Jagan Mohan Reddy on August 3, 2020. HUL Chairman and Managing Director Sanjiv Mehta, ITC Executive Director Sanjiv Puri, and P&G India CEO Madhusudan Gopalan were also present there through video conferencing when the MoU was signed.
Objective of the YSR Cheyutha Scheme
The major objective of the YSR Reddy Government behind starting this scheme is to empower the women of the state. Under this scheme, the government will provide financial help to women.
YSR Cheyutha Scheme Features/Benefits
Under this scheme 75000 rupees will be given to the women beneficiaries of SC, ST, BC or minority community in the time spam of 4 years
This is a 100% government funded scheme
Benefits will be directly forwarded to the beneficiary's bank account through Direct Transfer Method.
YSR Cheyutha Scheme Eligibility criteria
Seekers who meet the eligibility criteria mentioned below can apply for this scheme:
Permanent resident of the Andhra Pradesh State
Age should be in between 45 to 60 years
Only women candidates of SC, ST, BC, or minority community
No one in the applicant family should be a government employee
Must now own more than 3 acres of land
Must not own any four wheeler
Documents Required
Aadhaar Card
Address Proof
Age Proof
Bank Account Passbook
Caste Certificate
Domicile Certificate
Mobile Number
Photograph etc.
Also Check: YSR Rythu Bharosa List 
YSR Cheyutha Scheme 2023 Application Procedure
Not a defined procedure has been released by the authorities till now. Some common steps which may candidates have to follow are as under
To apply under this YSR Cheyutha Scheme 2023 contenders, need to open the official website of the YSR Cheyutha Scheme
Home page of the website will appear on the screen of the computer
Choose apply link from there and application form will appear on screen
You have to fill the asked details in the application form such as

Name
Husband/ father name
Age
Category
Mobile number etc.

Now you need to upload the necessary documents as per the prescribed manner
Preview the details you entered in the application form and submit it by hit submit option
In the end you should take a hard copy of the filled application for future use.
Procedure to Search Beneficiary List
District wise links will appear on the computer screen, choose the name of your district
Now select the name of your mandal and a new list appears
Now select your Secretariat and name wise beneficiary list will appear
Know Your Secretariat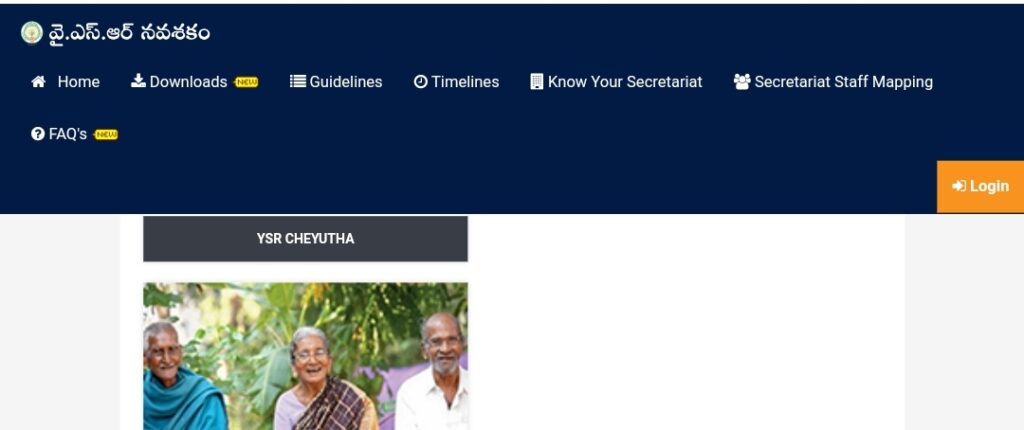 Home page of the site appears in front of you
Choose "Know Your Secretariat" option which is available in menu bar
Choose your district name, hit the link a new list appears
Select Urban or Rural list, a new list appears
Choose the link given in the column front of your district name & a new list appears
Choose your Mandal name from list, hit on the link opposite to your Mandal name & a new list appears
Note down your secretariat code appear on the screen
Procedure to Check Application & Transaction Status
Choose on the of the following and provide the number accordingly

GSWS Service ID
Meeseva Application ID
UPI
CFMS
ICICI

Enter the number & hit submit option
Information will appear on the screen
Helpline
For any query email the authorities at [email protected].