PRERANA Scholarship 2023 Apply Online | PRERANA Scholarship Last Date | PRERANA Scholarship | PRERANA Scholarship Sanction List
There are many students in the country who are not able to continue their education due to their poor financial conditions. For all those students the government launches various types of scholarship schemes so that all the meritorious students despite their financial condition can be able to get an education. Today we have come up with a scholarship scheme called PRERANA Scholarship which is launched by the government of Odisha. By reading this article you will get to know the step-by-step process to apply for this scholarship scheme. Other than that you will also get to know the details of objectives, benefits, features, eligibility criteria, required documents, application status, helpline number, etc. So you have to go through this article in detail if you want to apply for the PRERANA Scholarship Scheme.
PRERANA Scholarship 2023
The government of Odisha has launched Prerana scholarship scheme in order to empower the academic and career goals of students by removing financial barriers. Now with the help of this scholarship scheme, those students who are not able to afford education due to their poor financial condition will be able to get an education. Through this scholarship scheme, the government provides scholarships up to Rs.1200 per month. Other than that through this scholarship scheme, students will be able to study, gain knowledge and secure better grades. Only those students who belong to backward classes will be able to benefit from this scholarship scheme. Under the Prerana scholarship scheme, different courses are divided into four categories. According to these categories, students will get scholarships.
Key Details of PRERANA Scholarship
Name Of The Scheme- Prerana Scholarship
Launched By- Government Of Odisha
Beneficiary- Students Of Odisha
Objective- To Provide Financial Assistance
Official Website- Click Here
Year- 2021
State- Odisha
Application Process- Online/Offline
Department- ST & SC Development, Minorities & Backward Classes Welfare Department, Government Of Odisha
Read More:  KALIA Yojana Odisha 2022
List of Scholarships Under Prerana Scholarship
Post-matric scholarship for SC- Financial assistance up to Rs.550 for day scholar and Rs.1200 for hostellers
Post-matric scholarship for ST- Financial assistance up to Rs.550 for day scholar and Rs.1200 for hostellers
Post-matric scholarship for OBC/SEBC- financial assistance up to Rs 350 for day scholar and Rs 750 for hostellers
Post-matric scholarship for EBC- financial assistance up to Rs 350 for day scholar and Rs 750 for hostellers
Objective Of Prerana Scholarship
The main objective of Prerana scholarship are as follows:-
To provide Financial assistance to students so that they can be able to finance their education
To empower the Academic goals of students
empower the career goals of students
To remove financial barriers
help students to gain knowledge without thinking about the financial burden
To help students secure better grades
Scholarship Schedule
Application begins from- Updated Soon
Last date to apply- Available Soon
Last date to submit duly signed printed online version hardcopies to the student- Updated Soon
Last date of scrutiny and forwarding online application- Available Soon
Last date for submitting hard copies of the application by the institute to the DWO concerned- Updated Soon
Last date of online sanction of application by district- Updated Soon
Group Of Categories Under Prerana Scholarship
Group 1- Graduation/ Post Graduation level courses like Engineering, Medical, Agriculture and Veterinary CPL Courses, PG Diploma in Medicine and Management, Ph.D. M.Phil, Courses related to Accountancy, Post Doctoral Programme, LLM, etc.
Group 2- Graduation or Post Graduation such as Degree, Diploma, Certificate in Pharmacy, Paramedical, Nursing, LLB, Mass Communication, Interior Decoration, Hotel Management, etc. PG Courses such as MA/M.Com/ M.SC/ M.Ed/ M.Pharma, etc.
Group 3- +3 Courses.
Group 4- 12th, ITI, 03 Year diploma and 02 years of vocational courses
Benefits & Features Of Prerana Scholarship
The government of Odisha has launched Prerana scholarship scheme
Under this scholarship scheme, financial barriers are removed by giving financial assistance of Rs 1200 per month
Through this scholarship scheme, students will be empowered to pursue their academic and career goals
All those students who is not being able to afford education due to their poor financial condition will be able to pursue their education due to this scheme
Other than that students will be able to study, gain knowledge and secure better grades
Only those students who belong to backward classes will be able to take benefit of this scheme
SC and ST development, minorities and backward classes welfare department, the government of Odisha is responsible for implementing this scheme
Incentives Provided Under Prerana Scholarship
For Hostellers
Group 1- Rs.1200/- (SC/ST) & Rs.750/- (OBC)
Group 2- Rs.1000/- (SC/ST) & Rs.510/- (OBC)
Group 3- Rs.1000/- (SC/ST) & Rs.400/- (OBC)
Group 4- Rs.1000/- (SC/ST) & Rs.260/- (OBC)
For Non-Hostellers
Group 1- Rs.550/- (SC/ST) & Rs.350/- (OBC)
Group 2- Rs.530/- (SC/ST) & Rs.335/- (OBC)
Group 3- Rs 300/- (SC/ST) & Rs.210/- (OBC)
Group 4- Rs.230/- (SC/ST) & Rs.160/- (OBC)
Note: For general courses, a 100% course fee will be provided under this scholarship scheme. Other than that Rs.28,500 will be given for technical courses and monthly maintenance allowance will also be provided to students
Fees Under Prerana Scholarship
Tuition fees/course fees
Admission fees
Library fees
Sports fees
Maintenance allowance etc
Read More: PFMS Scholarship 2022
Eligibility Criteria Of Prerana Scholarship
| | |
| --- | --- |
| Residential Status | The applicant must be a permanent resident of Odisha |
| Category | Applicant must belong to the backward category |
| Annual Household Income | For SC/ST students the income of the family should not exceed Rs. 2,50,000 per annum, for OBC/SEBC students the income of the family should not exceed Rs.1,50,000 and for EBC students the income of the family should not exceed Rs.1,00,000 per annum |
| Marks of the Previous Examination | The student must have secured at least 50% marks in the previous examination |
Required Documents To Apply For Prerana Scholarship
Aadhar card
Residence certificate
Caste certificate
Income certificate
Bank account details
Previous class mark sheet
Fee receipt
Mobile number
Passport size photograph
Procedure To Apply For Prerana Scholarship
Now you are required to enter your username/student applicant ID and password
After that you have to enter your Captcha code and click on login
Now you have to click on register here
After that registration form will appear before you
You have to fill all the required details in this registration form
Now you have to upload all the required documents
After that you have to click on submit
By following this procedure you can apply for scholarship
Procedure To Login On The Portal
Visit the official website of the Prerana scholarship
The homepage will open before you
Now you are required to click on login
Login page will appear before you
You have to fill your username, password and captcha code on this login page
Now you have to click on login
By following this procedure you can login on the portal
Procedure To Do Correction Of Aadhaar In Prerana Scholarship
First of all, go to the official website of the Prerana scholarship
The homepage will open before you
Now you are required to click on login
After that you have to enter the login credentials and click on login
Now you are required to click on Aadhaar verification
A new page will appear before you
On this new page you have to enter the required details
After that you have to upload the required documents
Now you have to click on submit
By following this procedure you can do Aadhaar verification
Procedure To Do Important Downloads
First of all, go to the official website of the Prerana scholarship
The homepage will open before you
On the homepage you are required to click on downloads
Following options will appear before you
You have to click on the option of your choice
PDF file will appear before you
You can download the PDF file by clicking on download
Procedure To Download Grievance Format For Outside State Students
Go to the official website of the Prerana scholarship
The homepage will open before you
Now you are required to click on outside state student
After that you have to click on grievance format
Grievance format will start downloading in your device
Procedure To Download Detailed Instructions
Visit the official website of the Prerana scholarship
The homepage will open before you
Now you are required to click on outside state student
After that you have to click on detailed instruction
A PDF file will appear before you
You have to click on the download option in order to download it
Procedure To Download Out-of-State Institute Additional Format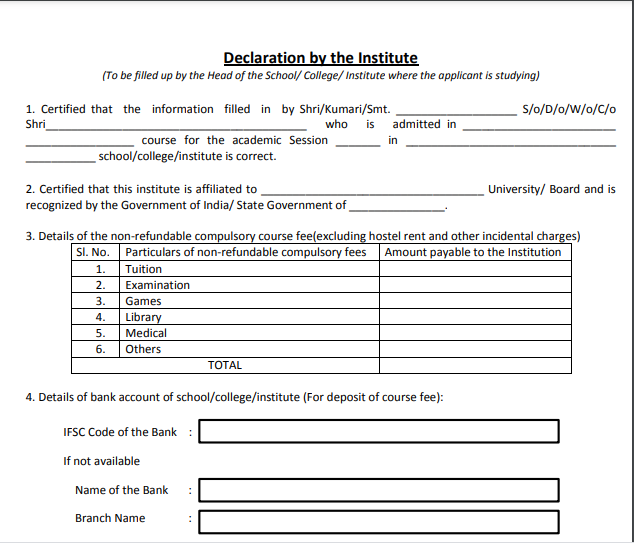 A PDF file will appear before you
You have to click on the download option in order to download it
Procedure To View Institute Wise Status Of Registered Application Summary
A new page will appear before you
On this new page you have to select your district, tehsil and academic year
Now you have to click on generate report
Required information will appear on your screen
View Status Of Received Application At Various Level
On this new page you have to select district, tehsil, Academic year and scheme
Now you have to click on generate report
Required information will appear on your computer screen
Important Information Links
Contact Information